Painted Furniture
Wahpeton City Park
Date of  Completion
August 2021
About the Project
As part of our mission to improve and enhance the Iowa Great Lakes region, Imagine Iowa Great Lakes has commissioned local artists to paint works of art on furniture to place at gathering spots throughout the area.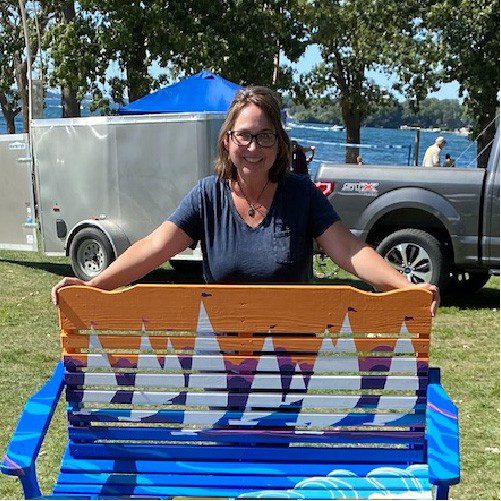 Meet the Artist
Cherie Lee
"I'm a small-town artist in Sioux City, Iowa. Though I dream about visiting the corners of the earth, I find substantial inspiration right where I am, in the beautiful Midwest. I aim to acknowledge everyday experiences and place them front and center as a token of my daily adventures and current exploits."
Cherie Lee creates murals for public spaces, as well as custom architectural watercolor paintings and abstract works on canvas. She is always ready to try new mediums, methods, and projects and often has several works in progress at any given time. In her murals, Cherie likes to use large, vibrant shapes and colors to refresh and improve overlooked spaces, such as alleyways and outhouses. She carefully considers each site, determining how to best reflect her vision within the space and adding friendly details to engage viewers.