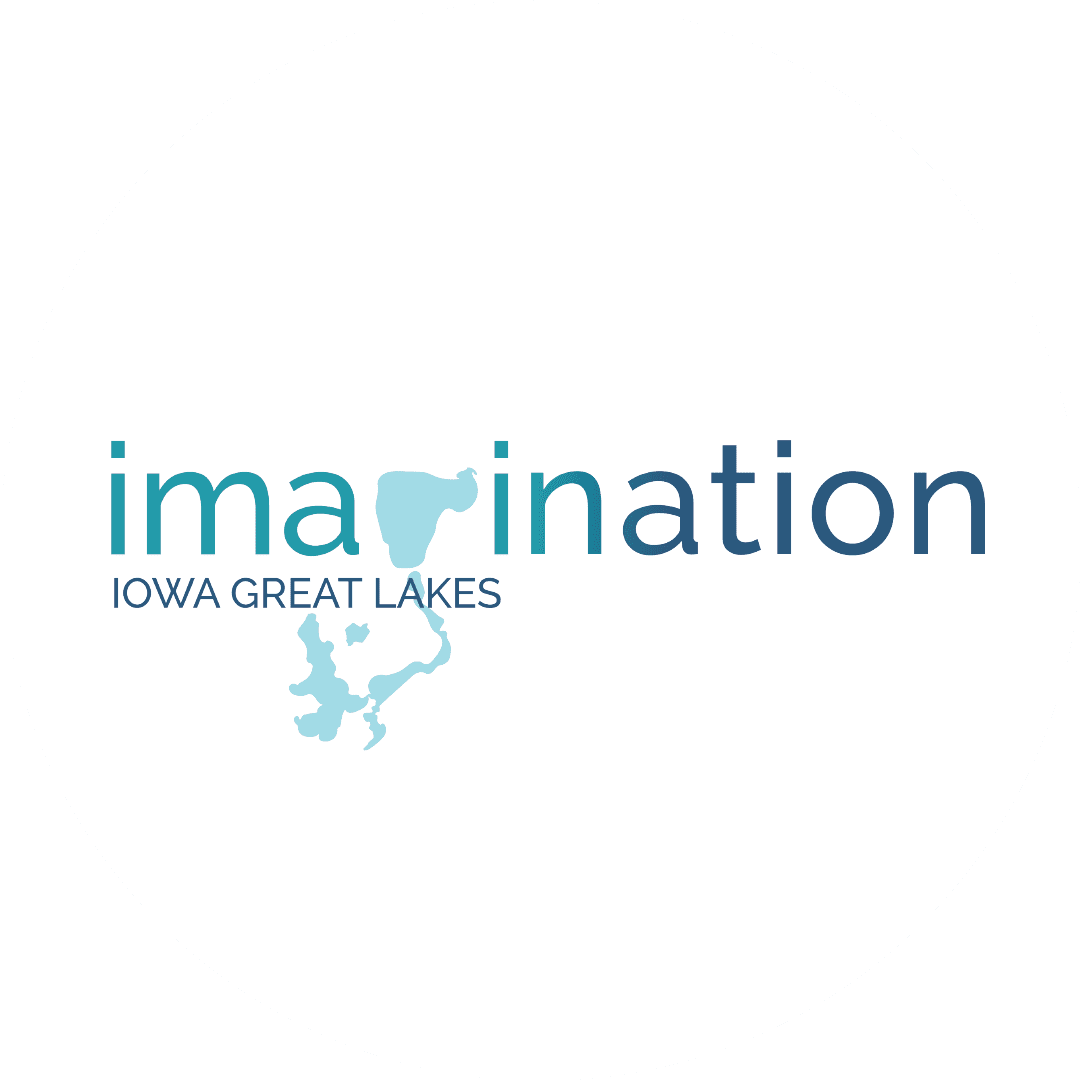 Members of ImagiNATION are active residents, businesses, community leaders, and visitors who show their support, enthusiasm, and passion for the projects and visions of Imagine Iowa Great Lakes. Sign up below to become part of ImagiNATION.
Alan & Deb Fettes
Alesia Johnson
All Pro Door Company
Amber Oberman
Amy's Sign Design
Arnolds Park Amusement Park
Bank Midwest
Beck Engineering
Bedell Family YMCA
Bethany Wilcoxon & Vito Carena
Bill Dowd
Blended
Blink Marketing
Brad and Sheree Sanderson
Brian & Annie Downing
Bruce and Marline Johnson
Camp Foster YMCA
Carpet One
Christofer Christiansen
Cindy Hess
City of Arnolds Park
City of Okoboji
City of Spirit Lake
City of Milford
Clouse studios
Colin and Jessica Wipf
Cottage Gardens
Dee Pyle
Dickinson County Trails Board
Double J Farms
Dry Dock
Edward Jones (Spirit Lake)
Elements Design Studio
Eric & Jeanenne Kinnetz
Eric Hoien
Erin Frerichs
EXIT Realty Midwest
Farmers Insurance
Faust Institute of Cosmetology
Fierce Good Causes
Four Seasons Resort
Frito Lay Inc
Ferguson's Garden Center
GrapeTree Medical Staffing
Greener Pastures Lawn Care
Greg & Pam Post
Greta Gruys
Ground Effect Innovative Attachments
Harmelink Auto Brokers
Hoerr Schaudt
Hoien Realty
Iowa Department of Transportation
J Chad Simington
Jack & Julie Kliegl
Jan Grant
Janice Haning
Jared Ransom
Jennifer Seacrest
Jill & Chad Harms
Jill Longest
Jim Powers
Jo Martin
John and Mary Franken
Joni and Tim Mitchell
Joshua Espelund
Kabeles Trading Post and Lodge
Kent & Jill Stensland
Jim Krambeck
Kirk & Jan Stauss
Kizze Hromatko
Lakes Area Homewatch
Lakes Regional Healthcare
Lakeside Woodworking
LeeAnn Reetz
Lisa Peters
LucileMae, LLC
Mark & Cheri Petersen
McClure Engineering co.
Michele Goodenow
Mindy Leinbaugh
Nancy Rees
Nichole Johnson Designs
Northwest Bank
Northwest Iowa Ear Nose & Throat
OCDee
Okoboji Appliance Repair
Okoboji Bible Conference Ministries
Okoboji Community Schools
Okoboji Physical Therapy
Okoboji Property Group at Remax Lakes Realty
Okoboji YMCA
Orris Construction
Overhead Door Sales and Service
Pas & Toale Dental
Pearson Lakes Art Center
Pick's Lakeshore Resort
Pristine Clean
Randy and Tammy Baysinger
Realty ONE Group Revolve
REALTOR EXIT Realty Midwest
Remillard Signs
Rick & Jean Ahrens
RIDES Regional Transit Authority
Roger and Nancy DeVries
Ron Rensink
Roof Guard Company
Ryan & Beth Odor
Ryan & Jenni Cunningham
Ruthven Meat Locker
Sandy Law Firm, P.C.
Saunders Law Office
Shaw's of Okoboji
Sherry Sturgeon Clark
Special Occasions Catering
SpencerUSA YP
Spirit Lake Community Schools
Spirit lake noon kiwanis
Stauss Realty
Tecton Industries , Inc.
Teresa Pearson
The Gas Boat
The Lakes News Shopper
The Oakwood Inn
Tim & Joren Kinnetz
Tom Batcheller
Tom & Sherry Fuhrman
Tresa Knoff
Underwater Solutions LLC
University of Okoboji
Vicki Willison Painting
Wendy Wilts
Whimsical Expressions
Will Kretsinger
World Wide Expense Reduction Advisors
Become part of imagination
Please type your Name and/or organization or business name here and submit and we will gladly add you as a member!
Become part of imagination
Please type your Name and/or organization or business name here and submit and we will gladly add you as a member!